We have lot's of lovely ferrets looking for homes.
Currently 30 this years kits & 20 adults are awaiting their forever homes
Some of the slightly older ferrets available for rehoming.
Sandy Biscuit, Poley Bonbon & Bourbon, Trio of speyed jills 3-4 years old been awaiting their forever home for nearly 2 years. Ex working ferrets
Poley Chilli Bean, Naga & Albino Belle, 2 years old been waiting for nearly a year.
Poley Sugar & DEW Tilly half tail, Been here for 10 months.
Poley's Chloe & Pheobe, Been here 2 years.
some others
Sandy bro's Ronnie & Reggie
Silver Greebo & poley Mickey, Silver Polly
These & many others are in need of Furever homes
Great care is taken to make sure ferrets are well socialized friendly & nip trained before leaving for their Furever homes
Please use our contact us page for Adoption fees & available ferrets,
All homes are checked for suitability & we do our best to match the right ferret(s) for you & any other ferrets already in your family
Please remember ferrets live for an average of 8-10 years & are a long term commitment & do not generally like to live without other ferret company, I will not usually send a single to live on it's own apart from Very rare instances one cannot be mixed with others. Most ferrets here live in community groups around the same age & have special friends
No objection to working homes as long as Housing & care is to a good standard
Please Don't ask for "Breeding stock"
We do Not breed here or re home un neutered ferrets under any circumstances unless under 8 months old & those Have to come back when old/mature enough to be done.
Background & lines of ferrets here is unknown so totally unsuitable no matter how pretty the ferret & have no wish to add to the ferrets needing homes problem, Many that come here are the result of indiscriminate breeding
All ferrets are Neutered & Micro chipped prior to Adoption with the exception of kits not old enough & will have to come back in the spring after birth to be speyed or castrated by our vets
We can get a Hob Vasectomised to bring larger groups of Jills out of season without producing Kits if we have a suitable gentle sociable candidate for the job But really Speying the ladies is the best solution long term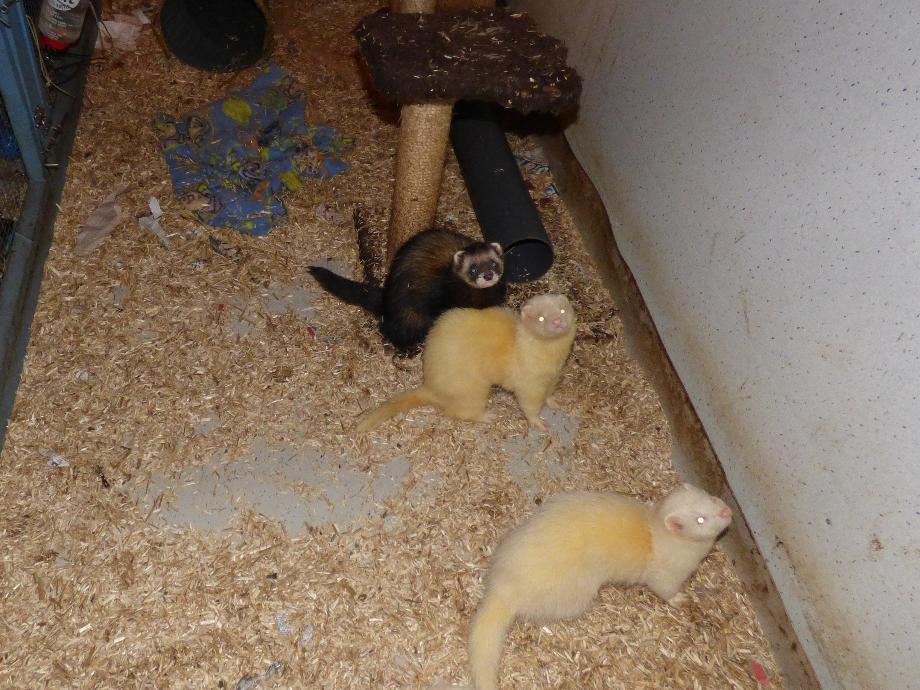 Bodger, Dodger & Luchio,
Luchio front Albino has found his furever home
These guys are full of fun & bounce, Well socialised & live in with last years "kit Crew" all 10-11 months old Neutered boys, Bodger & Dodger are a bonded pair & cannot be parted from each other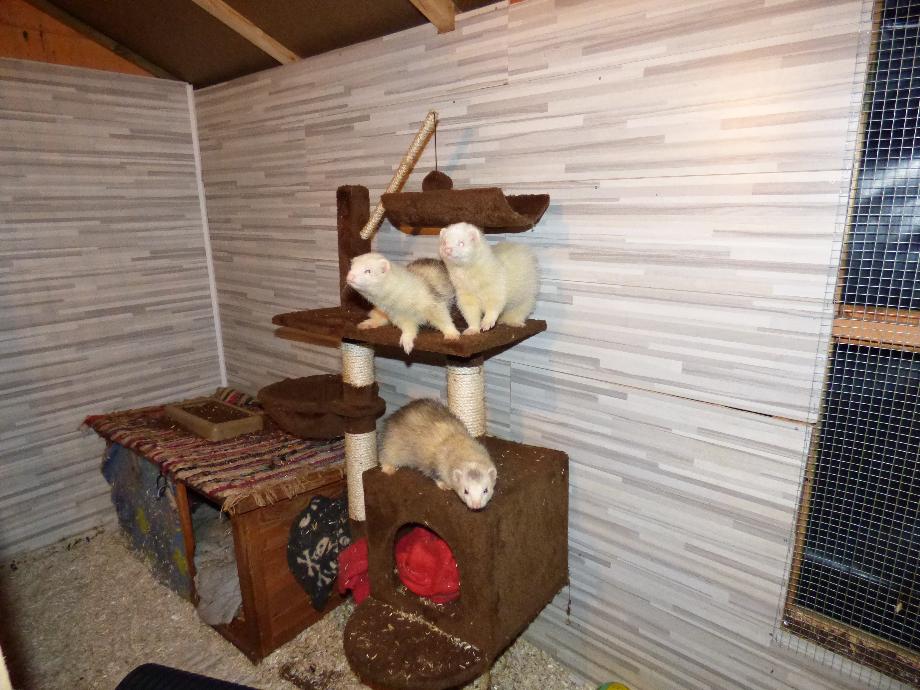 Motley & Jester the silver bro's, Sadly Jester is Deaf & needs to stay with his brother, This cheeky pair of lovable ferrets are neutered & around 2 years old. They currently live in a large group their own age & are very sociable with other ferrets & are used to living in a large ferret court since they arrived at 11 weeks old & would not be happy in a standard hutch or cage. Lucky The Albino has found his furever home